Welcome to HealthStat Primary Health Care Intelligence
HealthStat lets you see your practice profile at a glance, with instant 24/7 access to useful clinical and business information, on your own secure website. Here's the default practice profile—HealthStat lets you design your own homepage if you want something else.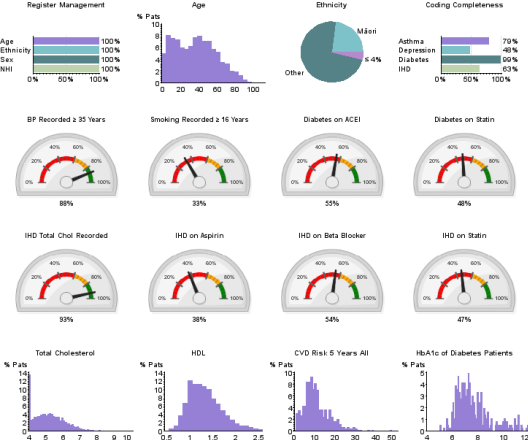 Analyses are presented as attractive graphs and charts, with full access to the underlying numbers. Practices can compare themselves with each other, and benchmark themselves against the HealthStat panel of 360 randomly selected New Zealand GPs. Your data is completely secure and no identifying information leaves your practice.
Working seamlessly with MedTech's new Clinical Audit Tool, practices can 'drill down' to see patient lists, showing who makes up each bar on a graph, do mailouts, set recalls and alerts, and drill down again to see the real-time clinical record in MedTech. All data is written back to MedTech, maintaining the integrity of your clinical record. With HealthStat there is no double data entry, no flicking between different lists in different places or searching for patients. And analyses are always up-to-date.
PHOs can see a view of the whole PHO, identify service gaps, and monitor programmes. A DHB can see the health status of their population instantly. The very high response rate (84%) in the national random sample means that HealthStat is a powerful tool for research, monitoring, and public health surveillance.
HealthStat is already built into MedTech32 and runs completely automatically. HealthStat has been running since 2005, supported by eight full-time medical IT experts. If you would like to talk about how HealthStat Primary Health Care Intelligence can reduce your workload and make it easier to run your practice, please contact us and we will provide you with a trial login to let you explore the HealthStat system in depth.